Students from underprivileged backgrounds don't often get to spread their artistic wings in the classroom. There's a studio in San Antonio's Westside that's actually paying young people "to make art all day."

Walking into La Printería is like walking into a middle school gym. Literally. La Printería is located in the gymnasium of the former Lincoln Middle School, now the Westside Education Training Center run by Alamo Colleges.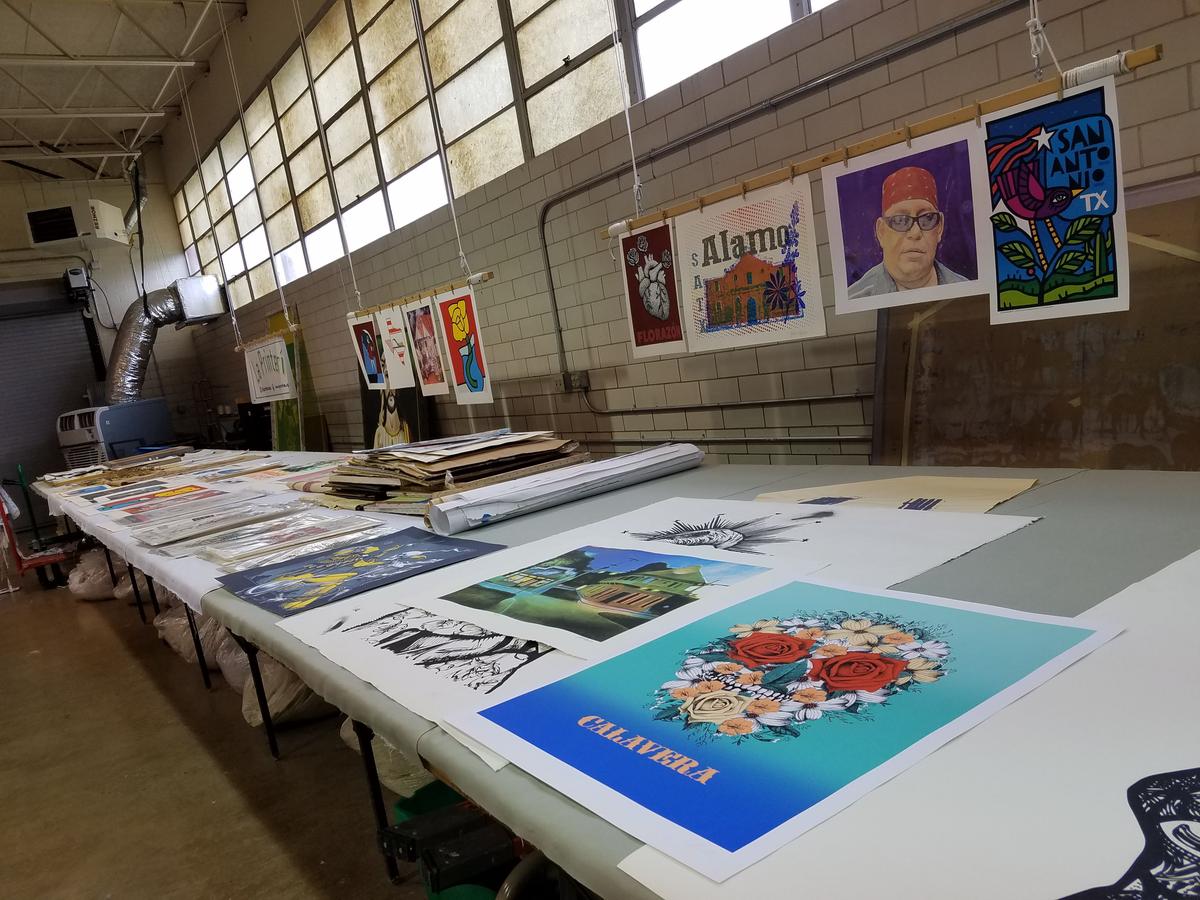 A tableful of prints created by established San Antonio artists to serve as inspiration for young printmakers.CREDIT NORMA MARTINEZ / TEXAS PUBLIC RADIO

The long rectangular space amplifies the vacuum cleaner-like sounds of the printmaking equipment. The room is decorated with poster-like prints of all shapes, sizes and colors.
Harvey Mireles, founder and director of La Printería said it's not just a workspace for painters and designers to create multiple copies of their work. "We could work with kids, primarily kids in the inner city, underserved communities," Mireles said. "And provide them the skillset for creating art, prints primarily."
Mireles is himself a native of the West Side, a traditionally underserved section of San Antonio.
"I wanted to bring something to those that were not being properly served," he said.
La Printería is offering a 10-week summer session as part of a workforce program under the San Antonio Housing Authority. Seven young people who live in public housing are participating this year. They start off learning how to create single-color prints and will gradually create a design with up to six colors.
One week, they work on Lichtenstein recreations. Roy Lichtenstein was an American pop artist whose comic book-like works are brightly colored and prominently feature polka-dots known as Ben-Day dots.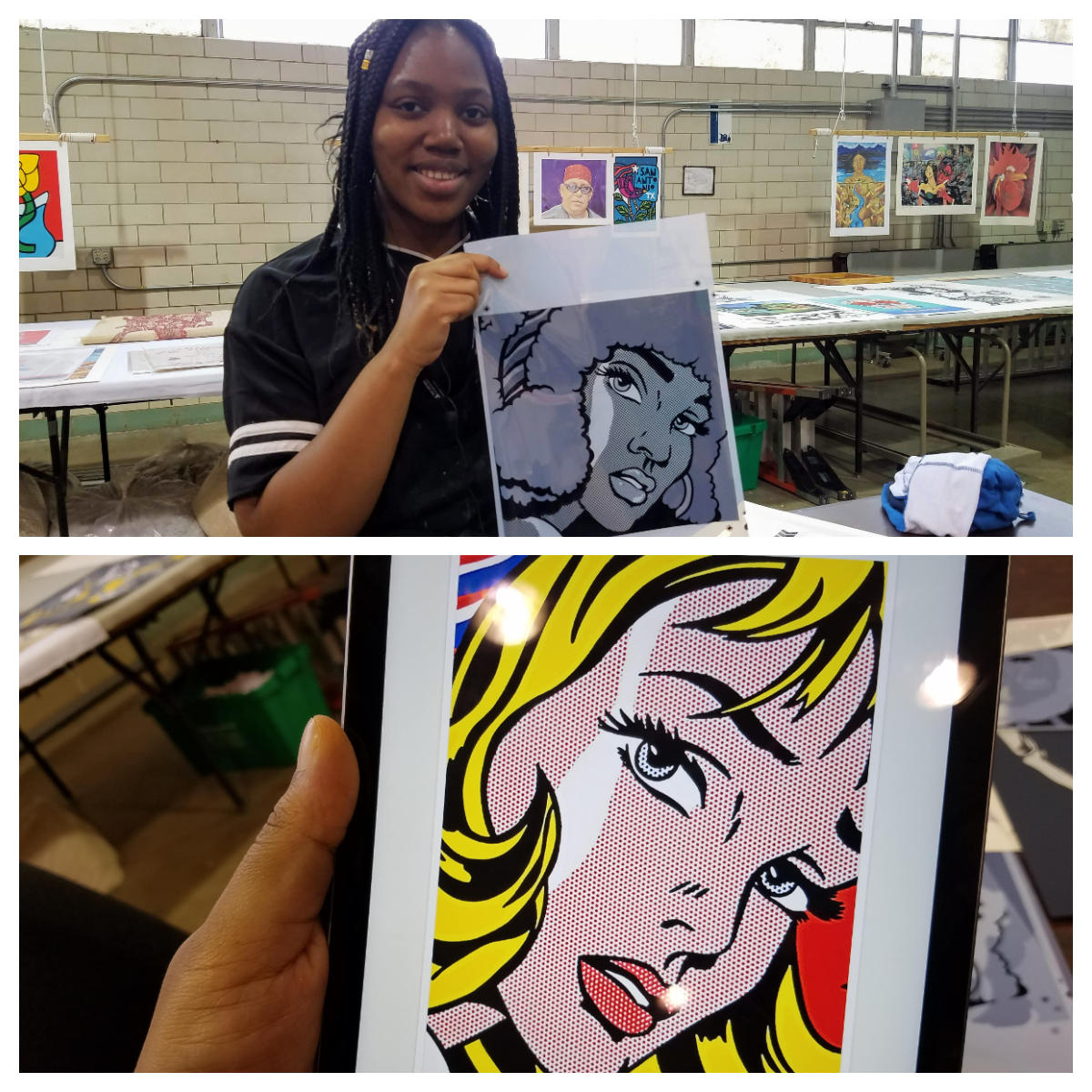 Teunice Curtis displays her Lichtenstein "subversion" in progress, and displays the original on her tablet.CREDIT NORMA MARTINEZ / TEXAS PUBLIC RADIO
Teunice Curtis, 19, attends Howard University and is home for the summer. She recreated — "subverted," in her words — Lichtenstein's "Girl with Hair Ribbon."
"It was (originally) a blond girl with blue eyes with an American ribbon on it," Curtis said. "I subverted it and turned it into a Black woman with an Afro, and I changed the ribbon to the Garvey flag for African Americans. I guess I wanted to celebrate Black women for once."
Romeo Carmona, 17, was on the computer, cleaning up a recreation of Lichtenstein's "Still Life with Cow Skull."
"I just think it would look good in my room, like a little poster," he said.
Carmona took an art class his freshman year in high school. It was not a positive experience.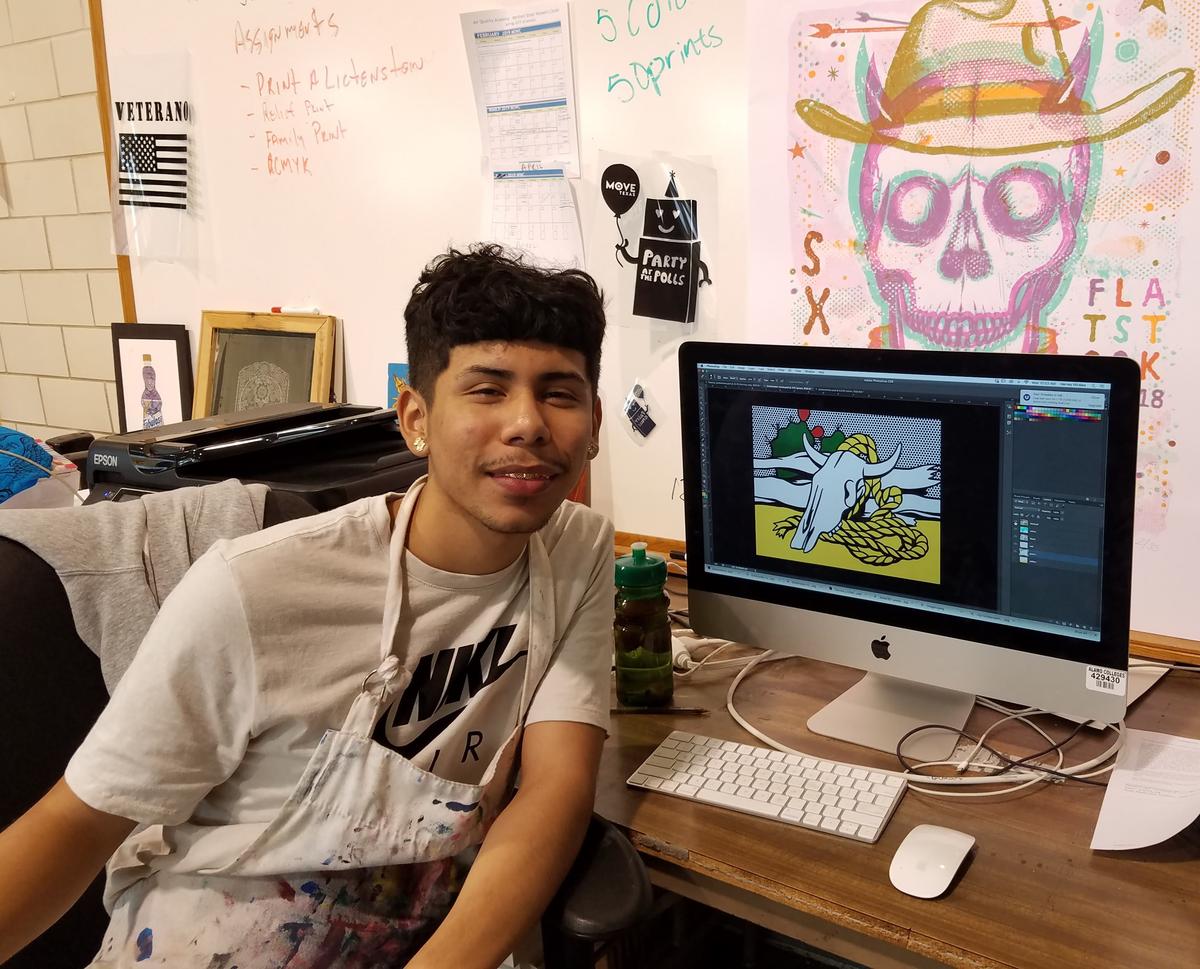 Romeo Cardona is recreating a print of Lichtenstein's "Still Life with Cow Skull."CREDIT NORMA MARTINEZ / TEXAS PUBLIC RADIO
"I hated it so much. I'm not gonna lie," Carmona said. "It was the worst class I've ever taken. But I consider myself creative, as far as music and stuff goes. I always take the opportunity to do stuff like (this) whenever I get the opportunity."
Desiree Gomez, also 17, used a deeper blue for her print of Lichtenstein's "Crying Girl." She became interested in art as a freshman when her dad would send her drawings from jail.
"He was in jail for 8 years," Gomez said. "He recently got out. Every year — Valentine's, holidays — he would always send me a drawing. I really wanted to be as talented as him."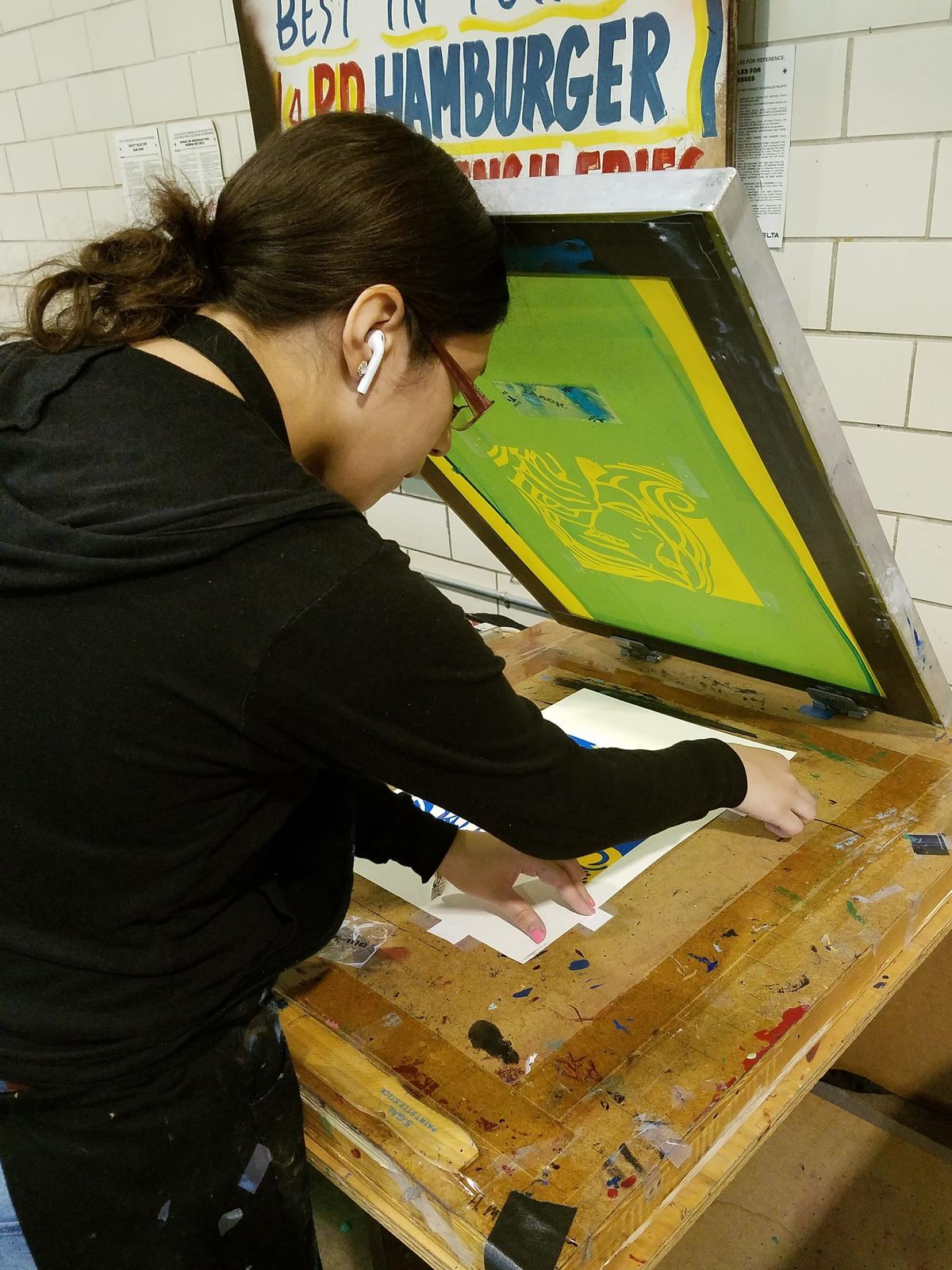 Desiree Gomez at work.CREDIT NORMA MARTINEZ / TEXAS PUBLIC RADIO
Maria Cendejas, 19, is a recent transplant to San Antonio. She's an apprentice at La Printería, and is grateful to have discovered it.
"They're able to provide such an open space for the community, and a lot of times with my experience, that's not the case," Cendejas said. "It's something that's open to the public, whether it's through small sessions or whether they're willing to take you and give you a space to practice and do what you're really passionate about doing."
Each young printmaker in the summer session will create a total of 10 prints in the workshop, which wraps up in August. La Printería founder Mireles has hopes a local gallery will showcase and sell their work.